Working...

Health Policy

Students need to be at their highest level of wellness to optimally participate in their educational program and students need to be protected from communicable illnesses while attending school.
ILLNESS:
With the assistance of teachers and staff, the school nurse will work to identify early signs of illness. When a student appears ill, they will be monitored for signs and symptoms that could indicate an illness. Upon certain signs of illness (i.e. vomiting, diarrhea, fever over 100 degrees) the parent or emergency designated person will be notified that a child needs to leave school due to illness. Parents are expected to pick up their child or make arrangements for someone else to pick up their child within 15 minutes of the notification to limit exposure to other students. Parents will be notified by the nurse of how long their child needs to remain at home and any other instructions. If your child has vomited, had diarrhea or ran a fever over 100 degrees, please do not send them back to school until they have not had any of these symptoms for 24 hours.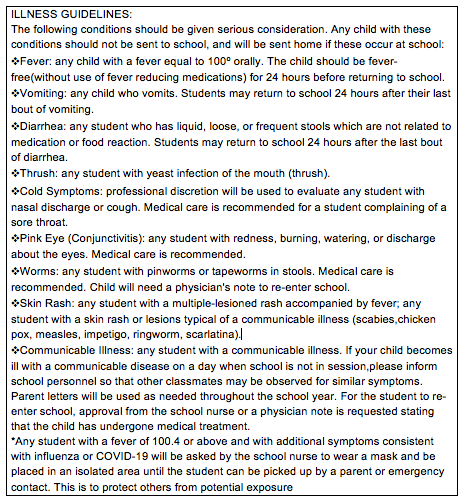 INJURY:
If a student is injured while at school, the student's parents will be notified as soon as possible. Injured students will be turned over to the care of the student's parent or emergency contact or medical personnel as quickly as possible. At registration, parents will provide emergency information and contacts to the district to use in case of an emergency.
EMERGENCY CONTACTS:
If a parent is unable to be reached in case of illness or injury, the school will contact individuals listed as emergency contacts for the student. It is very important that you notify the school when your parental contact information or emergency contacts have changed.
MEDICATIONS:
Students are not allowed to have medications (prescription or non-prescription) on their person at school except in approved situations. If your child has a prescription or non-prescription medication that needs to be taken at school, you will need to take the medication to the nurse's office and then follow the subsequent policy:
Prescription
Complete a Permission to Give Medication form for each medication to be administered. These forms are available in the nurse's office and the elementary office.

All prescription medications must be in the ORIGINAL LABELED CONTAINER as dispensed by the pharmacy. Additional labeled containers are available at the pharmacy upon request. Special instructions or considerations for giving medications will need to come from a physician or dentist.

If the dosage order changes (such as time of administration, amount of dosage, etc…), the school must have a new, correctly labeled container from the pharmacy with the new dosage orders BEFORE any change in administration will be followed.
Non-prescription
Non-prescription medications (Tylenol, Advil, etc.) are occasionally supplied by the school with parent permission.

Non-prescription medications must be brought to the elementary office by the parent/guardian in the original container if medication is to be administered by the school. Medications must be age appropriate and will be administered according to label recommendations.

Non school-supplied medications, will only be given if a Permission to Give Medications Form has been signed
*At the end of the school year, or at the end of the dispensing time, any unused medication will be returned to the student's parents/guardians or destroyed. This will be noted in the student's health file.
**By adhering to Lamoni Community Schools Health Policy, we can help protect our students!